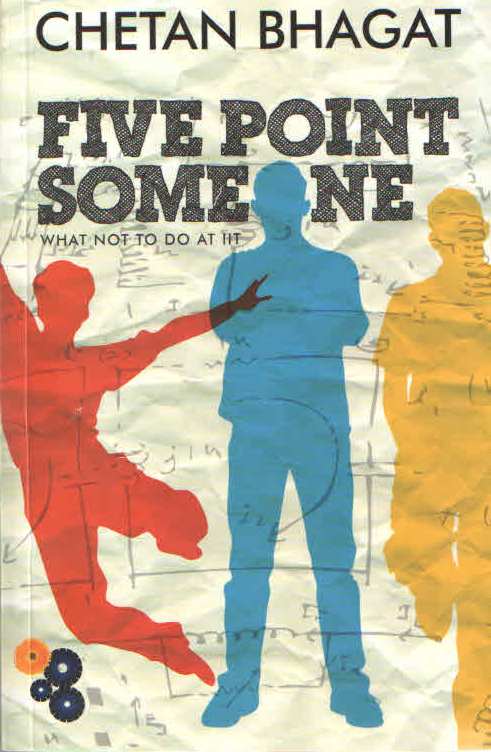 From Goodreads:
Set in IIT, in the early '90s, Five Point Someone portrays the lives of the protagonist Hari and his two friends Ryan and Alok. It explores the darker side of IIT, one in which students- having worked for years to make it into the institute-struggle to maintain their grades, keep their friends and have some kind of life outside studies.
Funny, dark and non-stop, Five Point Someone is the story of three friends whose measly five-point something GPAs come in the way of everything-their friendship, their love life, their future. Will they make it?
Published: April, 2006
Author: Chetan Bhagat
Pages: 267
My Rating: 3.5
Genre: Young Adult, Contemporary, Asian Literature
First of all, the concept was right up to my alley. It felt really good to read what I have felt studying in the system for the past four years. The concept was how the education system of IIT in India is all about rot learning and using your memory not your brain to study. That is exactly what happens in the Pakistani system as well. I am not saying its bad, I am saying, its not something I adjusted well to. That is one of the reasons I decided to do ACCA and not go back into the system to do medicine.
I loved the friendship between the three guys. Usually the guy friendships are very easy but not in this story. Friendship is the one thing that does not require any kind of label with you. It does not matter whether you are rich or poor or a failure. You are a friend. That is all matters. Which is exactly what this story was about.
I loved Ryan's struggle with the system he was studying in. Because that is exactly what I felt in the past two years of my studies. And I did mess up my life. Like Bhagat says'
"Life screws you over just when you have figured it out."
All the three friends had different problems which they did solve with their own point of view.
All in all, it was a refreshing read which really tallied with the life that Pakistanis and Indians live as students.
...SAP...